M. Alassane OUATTARA aura finalement remporté son pari : se faire élire pour un second mandat, dès le premier tour, le 25 octobre, de l'élection présidentielle en Côte d'Ivoire. Il avait annoncé « un coup K.-O. ». Le président sortant l'a fait.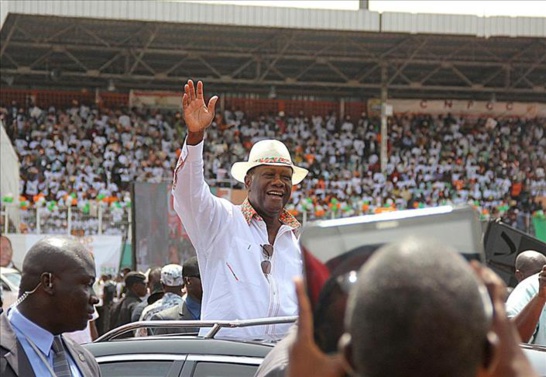 source: Agence Anadolu
En Afrique, une victoire au premier tour n'est pas nécessairement un bon signe démocratique. Surtout avec un score « à la soviétique » de 83,6 %, tel que celui obtenu par M. Alassane OUATTARA. Dans la Guinée voisine, la victoire au premier tour d'Alpha Condé, il y a peu, soulève ainsi de nombreuses interrogations quant à la transparence du scrutin. Sans parler des tripatouillages constitutionnels au Burundi, qui provoquèrent des violences ou de celles que l'on pourrait voir au Congo-Brazzaville, les présidents en place de ces deux pays ayant pour objectif d'obtenir à tout prix leur reconduction. Sans oublier, non plus, ces présidents à vie qui réduisent leur opposition au silence par la force ou grâce à des systèmes politiques viciés, comme au Tchad ou au Cameroun.

Rien de cela en Côte d'Ivoire. La réélection au premier tour du chef de l'Etat sortant intervient à l'issue d'un vote apaisé, reconnu, endossé par les observateurs sur place et l'ensemble de la communauté diplomatique internationale. Même si la logistique ne fut pas sans reproche le jour du vote. Mais l'on passe beaucoup de choses au président OUATTARA, et personne n'insistera sur les manquements de ce scrutin. Fort de son score et d'un taux de participation honorable (près de 55 %), le président sort crédibilisé de ce scrutin. Il faut se rappeler, en effet, que la seule élection réellement pluraliste organisée en Côte d'Ivoire depuis l'indépendance fut celle de 2010; or elle se termina dans un bain de sang et une quasi-guerre civile.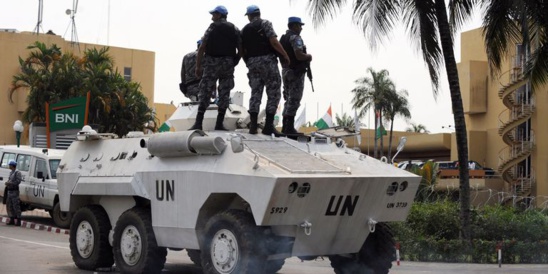 source: le Monde
Est-ce pour autant une véritable élection de sortie de crise ? Car l'autre gagnant de ce vote est le camp des pro-Gbagbo, l'ancien chef de l'Etat, qui dort aujourd'hui dans une prison de La Haye dans l'attente de son procès pour crimes contre l'humanité commis lors des violences, post-électorales justement, de 2010. Les radicaux du Front populaire ivoirien (FPI) aux yeux desquels c'est « Gbagbo ou rien » avaient appelé au boycott du scrutin. Il est difficile d'évaluer leur poids exact dans l'électorat, mais ils ne manqueront pas de s'attribuer les 46 % d'abstentionnistes. Et le fait est qu'ils représentent, jusqu'à présent, une part non négligeable de l'opinion publique, en rupture totale avec le pouvoir en place.

Ils incarnent le premier défi qu'Alassane OUATTARA va désormais devoir relever : réconcilier le monde politique ivoirien, ce qu'il s'est refusé à faire durant son premier mandat, tout comme les pro-Gbagbo d'ailleurs. Cela doit passer, notamment, par la justice. Une justice qui ne soit pas seulement celle des vainqueurs par les armes de 2010, mais qui soit également capable de s'intéresser aux exactions commises, à cette époque, par les amis de M. OUATTARA.

L'autre défi du prochain quinquennat est économique. La « locomotive d'Afrique de l'Ouest » est repartie sur de bons rails. Mais la population ne profite pas encore des fruits de la croissance retrouvée et attend que cette richesse soit mieux redistribuée. Sans quoi le risque est grand d'alimenter les frustrations, en particulier celles d'une jeunesse désœuvrée. Un nouveau mandat ne sera donc pas de trop. Mais Alassane OUATTARA a dorénavant les cartes en main pour répondre à toutes ces attentes.



Posted by Christopher O. De Andrés, on Tuesday, November 10th 2015 at 08:10
|
Comments (0)
European leaders express their condolences to families of Airbus A320 passengers.
Europe is shocked by the air accident in the Alps.
source: ECS Group
KEY POINTS OF THIS BREAKING NEWS:

-Search and recovery efforts on Wednesday 25 March in the French Alps, after a Germanwings plane crashed a day earlier with 150 people on board.

-Airbus 320 Flight 4U 9525 was travelling between Barcelona and Duesseldorf.

-The aircraft's black box voice recorder has been recovered and contains a 'usable audio file'.

-The casing of the second box - the flight data recorder - has been found, but not its contents.

-Memorial services being held as mourning for the victims begins.

-Among the dead are believed to be 72 German nationals and at least 51 Spaniards.

-Citizens of the UK, Australia, Japan, Israel, Turkey, Kazakhstan, Denmark, the Netherlands, the USA and Belgium were also on board.

-French President Francois Hollande, German Chancellor Angela Merkel and Spanish Prime Minister Mariano Rajoy have visited the crash site.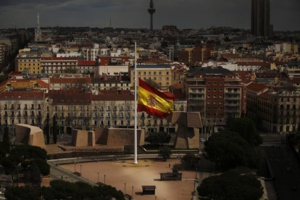 A Spanish flag flies at half staff, for the victims of the Germanwings passenger jet, in Madrid, Spain. Wed, March 25, 2015. | source: ECS Group
French investigators say usable data has been extracted from the cockpit voice recorder of Germanwings 4U 9525 but it has so far yielded no clues as to the cause of the plane's crash.

They said the plane hit the ground in the French Alps at great velocity, suggesting no explosion in flight. Flight 4U 9525 from Barcelona to Duesseldorf crashed after an eight-minute rapid descent on Tuesday. The French, German and Spanish leaders visited the crash site on Wednesday, March 25, 2015.

Posted by Christopher O. De Andrés, on Wednesday, March 25th 2015 at 21:05
|
Comments (0)
---