Question is what is Good Health?

In the midst of a pandemic, a polluted planet, increasing diseases like cancer, asthma, heart disease, on World Health Day 2022, UN agencies and other international organizations such as World Health Organization (WHO) will focus global attention on urgent actions needed to keep humans and the planet healthy and foster a movement to create societies focused on well-being.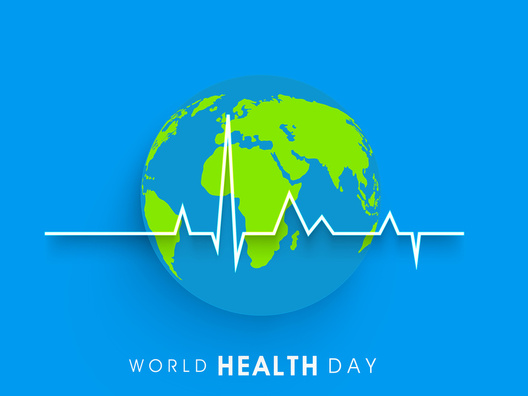 Source: Latin Times
WHO estimates that more than 13 million deaths around the world each year are due to avoidable environmental causes. This includes the climate crisis which is the single biggest health threat facing humanity. No doubt that climate crisis is a paradigm of the health crisis.
As Cigna's experts express, for some, good health may be the absence of illness. For others, it may be following a balanced diet or living a healthy lifestyle. In reality, good health is made up of several factors and, as defined by the World Health Organization (WHO), is a "state of complete physical, mental, and social well-being."
(1)
Building a fairer, healthier world.
The theme for this year's World Health Day is "building a fairer, healthier world". The WHO is calling on leaders across the globe to ensure that all people have access to quality healthcare and that they are granted living and working conditions that are safe and conducive to good overall health.
(2)
It's been a trying year for all of us. COVID-19 has hit all countries hard, but communities that were already vulnerable, who are less likely to have access to quality healthcare, are more exposed to the disease, and are disproportionately affected.
(3)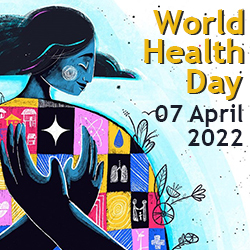 Some facts to take into account:
- One in four adults and 81% of adolescents do not do enough physical activity.
(4)
- When it comes to mental health, depression is one of the leading causes of disability, with suicide as the second leading cause of death among 15-29-year-olds.
(5)
- In terms of nutrition, 47 million children under the age of five are too thin for their height.
(6)
While the COVID-19 pandemic showed us the healing power of science, it also highlighted the inequities in our world. The pandemic has revealed weaknesses in all areas of society and underlined the urgency of creating sustainable well-being societies committed to achieving equitable health now and for future generations without breaching ecological limits. The present design of the economy leads to inequitable distribution of income, wealth and power, with too many people still living in poverty and instability. A well-being economy has human well-being, equity and ecological sustainability as its goals. These goals are translated into long-term investments, well-being budgets, social protection and legal and fiscal strategies. Breaking these cycles of destruction for the planet and human health requires legislative action, corporate reform and individuals to be supported and incentivized to make healthy choices.
Therefore, this
World Health Day
, it is relevant to raise awareness about health equality and the importance of building a fairer, healthier world in crosscutting issues.
Download and share Cigan's World Health Day information flyer
PDF
Posted by Christopher Oscar de Andrés, on Wednesday, April 6th 2022 at 07:15
|
Comments (0)
Blockchain is a relatively new technology for managing electronic data that has the
potential to support transparency and accountability. A blockchain is a ledger of
transactions where an identical copy of the ledger is visible to all the members of a
computer network. It is best suited to transactions with a lightweight digital footprint where
transparency and immutability are an advantage. In the international public health care sector, blockchains may be particularly useful for identity verification; medical and pharmaceutical supply chain management; and managing dynamic patient consent and data sharing and access permissions.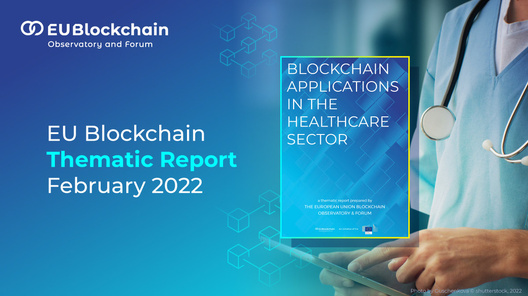 Source: EU Blockchain Observatory and Forum
What is blockchain and how can it provide opportunities for health care?

​A blockchain powered health information exchange could unlock the true value of interoperability. Blockchain-based systems have the potential to reduce or eliminate the friction and costs of current intermediaries.

The promise of blockchain has widespread implications for stakeholders in the health care ecosystem. Capitalizing on this technology has the potential to connect fragmented systems to generate insights and to better assess the value of care. In the long term, a nationwide blockchain network for electronic medical records may improve efficiencies and support better health outcomes for patients.

At its core, blockchain is a distributed system recording and storing transaction records. More specifically, blockchain is a shared, immutable record of peer-to-peer transactions built from linked transaction blocks and stored in a digital ledger. Blockchain relies on established cryptographic techniques to allow each participant in a network to interact (e.g. store, exchange, and view information), without preexisting trust between the parties. In a blockchain system, there is no central authority; instead, transaction records are stored and distributed across all network participants. Interactions with the blockchain become known to all participants and require verification by the network before information is added, enabling trustless collaboration between network participants while recording an immutable audit trail of all interactions.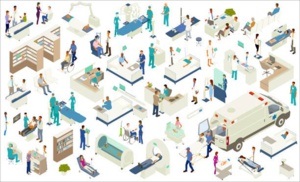 Source: Forbes
Blockchain as an enabler of nationwide interoperability.
The Office of the National Coordinator for Health Information Technology issued a shared nationwide interoperability roadmap, which defines critical policy and technical components needed for nationwide interoperability, including:
- Ubiquitous, secure network infrastructure,
- Verifiable identity and authentication of all participants,
- Consistent representation of authorization to access electronic health information, and several other requirements.
However, current technologies do not fully address these requirements, because they face limitations related to security, privacy, and full ecosystem interoperability.
Implementation challenges and considerations.
Blockchain technology presents numerous opportunities for health care; however, it is not fully mature today nor a panacea that can be immediately applied. Several technical, organizational, and behavioral economics challenges must be addressed before a health care blockchain can be adopted by organizations nationwide.

Shaping the blockchain future.
Blockchain technology creates unique opportunities to reduce complexity, enable trustless collaboration, and create secure and immutable information. HHS is right to track this rapidly evolving field to identify trends and sense areas where government support may be needed for the technology to realize its full potential in health care. To shape blockchain's future, HHS should consider mapping and convening the blockchain ecosystem, establishing a blockchain framework to coordinate early-adopters, and supporting a consortium for dialogue and discovery.​
Related articles:
EU Blockchain Observatory & Forum (Feb 2022).
Newsletter February 2022
.
Deloitte.
Transforming Federal Health IT Patient-centered, interoperable, and digitally connected big data
.
OECD. (Dec 2020).
Opportunities and Challenges of Blockchain Technologies in Health Care
. OECD Health Committee which supports countries in strengthening health data and their governance.
Posted by Christopher Oscar de Andrés, on Tuesday, March 8th 2022 at 08:35
|
Comments (0)
---