As per UNHCR's recent report, we are now witnessing the highest levels of displacement on record. An unprecedented 68.5 million people around the world have been forced from home. Among them are nearly 25.4 million refugees, over half of whom are under the age of 18.

There are also an estimated 10 million stateless people who have been denied a nationality and access to basic rights such as education, healthcare, employment and freedom of movement.

In a world where nearly 1 person is forcibly displaced every two seconds as a result of conflict or persecution, our work at UNHCR is more important than ever before.
Emergency: Europe situation.
In the first half of 2017, over 105,000 refugees and migrants entered Europe. This movement towards Europe continues to take a devastating toll on human life. Since the beginning of 2017, over 2,700 people are believed to have died or gone missing while crossing the Mediterranean Sea to reach Europe, with reports of many others perishing en route. These risks do not end once in Europe. Those moving onwards irregularly have reported numerous types of abuse, including being pushed back across borders.
With so many lives at risk, rescue-at-sea operations undertaken by all actors must remain a priority. Despite some progress in increasing the number of safe pathways to Europe, these opportunities are far too few to offer a feasible alternative to risky irregular journeys for people in need of protection. Further efforts are needed to increase access to existing legal pathways, including family reunification.
UNHCR also calls for European and other countries to offer an additional 40,000 resettlement places, which will complement already existing commitments, to be made available for refugees located in
15 priority countries along the Central Mediterranean route
.
Those arriving in Europe need adequate reception and assistance, particularly those with specific needs, including unaccompanied and separated children and survivors of sexual and gender based violence, and access to fair and efficient asylum procedures. More solidarity is needed within the EU to ensure protection, including through efficient and speedy family reunion and relocation.
Overall, there is a need for a comprehensive plan of action that will support long-term solutions to the complex issue of mixed migration and help address its root causes, in close cooperation with countries of origin and transit and in line with international law.
Persecution, conflicts and human rights violations continue to force people to flee their homes and seek safety in Europe. Many risk their lives and face a treacherous journey.
>
Total arrivals
12,349
Last updated 12 Mar 2019
>
Sea arrivals in 2019
(includes refugees and migrants arriving by sea to Italy, Cyprus, Greece, Malta and Spain)
9,773
Last updated 12 Mar 2019
>
Land arrivals in 2019
(includes refugees and migrants arriving by land to Greece and Spain)
2,576
Last updated 28 Feb 2019
>
Dead and missing in 2019
(estimate)
226
Last updated 12 Mar 2019
More statistics
Locations x3: Italy, Greece, and Spain
Updated 6 December 2018
What is UNHCR doing to help?
UNHCR, working with partners, is providing a broad range of support and assistance in Europe for refugees and asylum-seekers. These efforts include humanitarian and cash assistance, provision of accommodation and support to improve reception conditions, prevention and response to sexual and gender-based violence, protection monitoring and interventions, engaging with refugee communities to enhance their participation and including their voice in their voice in the response, identification and support to persons with specific needs, including separated and unaccompanied children, and referral to appropriate services.
To adequately respond to the protection needs of refugees and migrants arriving in Europe, UNHCR launched the
regional Refugee and Migrant Response Plan (RRMP), involving 60 partners
.
To improve the situation of refugee and migrant children arriving and staying in Europe without their parents or care givers, UNHCR, UNICEF and IRC issued a
Roadmap
and a
call to action
(1).
UNHCR has sets out a practical vision for the EU's global engagement with refugees and for the reform of its asylum system in its paper "Better Protecting Refugees in the EU and Globally".
---
(1) Kindly check
"Europe: new Roadmap to improve the situation of unaccompanied and separated refugee and migrant children."
, Joint UNHCR/UNICEF/IRC Press Release, July 2017.
Posted by Christopher Oscar de Andrés, on Thursday, March 14th 2019 at 07:25
|
Comments (0)
A final de este mes de enero de 2019, los rankings de descargas arrojan un crecimiento exponencial para las dos plataformas de Vehículos de Transporte Concertado (VTC) a las que el taxi ha declarado una guerra sin cuartel: Uber y Cabify.
Hace algunas semanas las plataforma de 'e-mobility' se movían en 3.000 descargas diarias, mientras que durante esta semana comprobamos que sus cifras han crecido hasta las 12.000 descargas por jornada. De este modo, mientras que cada día de huelga supone 170 eur de pérdidas para los taxistas de la capital, los números de los VTC continúan creciendo. Como era de esperar, la ciudadanía española responde a la huega de los taxistas que tiene urbes españolas, como Madrid y Barcelona, sumidas en un caos innecesario y rozando lo kafkiano.
El siguiente gráfico, elaborado con
Google Trends
, muestra que, en el marco de la huelga de taxistas que están viviendo Madrid y Barcelona, la popularidad de
Uber
y
Cabify
en el motor de búsqueda de referencia se dispara de forma súbita, facilitando la adopción de ambas plataformas hacia un target de cliente potencial de opciones alternativas al
taxi clásico
, dentro del
nuevo escenario de la movilidad urbana
.
En esta batalla de partes aparentemente irreconciliables, los taxistas, se proyectan en un extremo opuesto a las plataformas online del 'e-mobility'. Es de entender que los taxistas reivindiquen mantener sus condiciones para proteger su futuro empresarial. No obstante, también resulta muy razonable que los conductores y propietarios de las licencias VTC -utilizadas por plataformas como Uber o Cabify para operar en España-, necesiten seguir desarrollando su actividad en ciudades como Madrid y Barcelona. El taxi parece anquilosado en un paradigma de antaño y es esencial avanzar hacia un futuro más flexible y con opciones de movilidad alternativas; que no impliquen fragmentar el mercado, sino mejorar la competitividad y calidad del servicio. (1)

Más aún, lo cierto es que entre ambas partes existe un vínculo más frecuente de lo que nos hacen creer. Esto es lo que admiten fuentes del sector, mencionando la 'ambigüedad' para referirse a los empresarios que sincronizan la explotación de licencias de taxis y concesiones VTC.

"Es muy habitual que empresarios y cooperativas de taxis hagan también negocio con las VTC", aseguran. De hecho, "el 90% de las licencias VTC las solicitaron en su día profesionales relacionados con el taxi para después vender muchas de ellas a un precio muy superior al de la concesión", añaden.

Analizando el escenario con un criterio pluralista, comprobamos que muchos de esos taxistas se deshicieron de las VTC a cambio de un elevado rendimiento económico y continuaron con su actividad en el servicio público. Sucedió especialmente a partir de 2014, cuando Uber implementó su primera fase de expansión en España.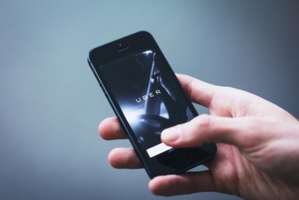 Aplicación de la plataforma Uber. Fuente: InternationalBusinessTimes
A continuación, se listan algunos ejemplos de casos en el sector de la movilidad urbana en los cuales la especulación en la compra-venta de licencias ha generado prósperos beneficios:
Servitaxi
: cooperativa que se hizo con unas 60 licencias VTC a un precio de 36 eur/ud. y acabó vendiéndolas por una cantidad entre 15.000 y 45.000 eur/ud. La diferencia supone multiplicar por más de 400 la inversión inicial.
Star Taxi Mercedes
: opta por mantener las licencias y aprovechar los beneficios de ambas actividades. La compañía apostó hace años por un modelo de convivencia entre los taxis y los vehículos de alquiler con conductor, cuyo requisito común es que el coche sea de marca
Mercedes
.
Auro New Transport
: su propietario, el empresario José Antonio Parrondo, ocupó entre 2007-2009 la presidencia de la
Asociación Gremial del taxi de Madrid
y años después se ha convertido en uno de los nombres con intención de monopolizar el negocio de las VTC en España. Actualmente suma unas 3.000 licencias de este tipo -2.500 de las cuales se concentran en Madrid y Barcelona, al tiempo que opera con taxis en ambas ciudades. Parrondo es también socio de otra de las sociedades que controlan el negocio de los vehículos de alquiler con conductor,
Airtaxi,
que cuenta con 1.400 licencias.
Completan este grupo
Vector Ronda
(en la cual Rosauro Varo es el principal accionista), con unas 2.500 licencias y
Moove Cars
, propiedad del fondo de inversión norteamericano King Street y dueño de más de 5.000 concesiones VTC que se mueven por todo el país.
Lo que parece una respuesta razonable, propuesta por miles de usuarios de taxis y VTC en los últimos días, para canalizar la solución del conflicto es ceder la gestión de las licencias a la competencia municipal. Los ayuntamientos ofrecerían una cantidad específica de licencias nominales e intransferibles, con un coste anual de 3.000 euros por su uso unitario, tanto para taxi como VTC. Una vez que un conductor cesara su actividad, la licencia caducaría automáticamente y regresaría al propio ayuntamiento. La entidad pública la volvería a ofrecer con un requisito de examinar al/a la candidato/a por áreas clave (conducción, conocimiento de la urbe, estado del vehículo, etc.), facilitando la tenencia de un máximo de dos conductores asociados a una única licencia. Todas las carreras fiscalizadas al momento; a diferencia de la actualidad, por tramos a elección del conductor.

En el siglo 21 actual nos encontramos en un marco de mercado donde prima la libre competencia. De este modo, se evitarían las tasas abusivas y difíciles de amortizar de 130.000 eur por la licencia. Además, en un tramo de tiempo optimizado se desarrollarían requisitos alineados a servicios diferenciados, mientras que la ciudadanía y los usuarios deciden qué servicio le resulta más competitivo.
(1)
Ver el
art. de El Mundo de fecha 24.01.2019
, detallando cómo
la Comisión Nacional de los Mercados y la Competencia (CNMC)
ha entrado de lleno en el conflicto de los taxistas con un informe devastador en el que carga contra el real decreto ley diseñado por el Ministerio de Fomento para frenar el desarrollo de los vehículos VTC.
Posted by Christopher Oscar de Andrés, on Wednesday, January 30th 2019 at 07:45
|
Comments (0)
---