Política pública en España y la Unión Europea: praxis de los recursos públicos y su objetivo para satisfacer las necesidades de la ciudadanía.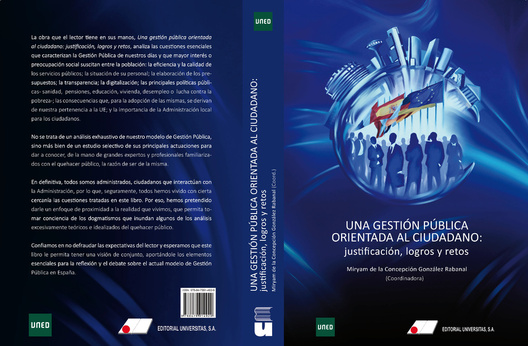 Portada de la publicación. Editorial Universitas, S.A. y UNED. Autor: JCZ
En la fluctuante realidad geopolítica y económica de la España de hoy, las cuestiones relativas a la Gestión Pública suponen una prioridad tanto en nuestro país como en su proyección dentro del marco evolutivo de la Unión Europea. En respuesta a esta preocupación, un grupo de expertos del sector académico y de la Administración Pública nacional e internacional presenta con esta obra una visión lo más completa posible de los principales logros y retos a los que se enfrenta la gestión pública en la actualidad, al entender que los temas relativos a la gestión pública revisten un nada despreciable interés para los ciudadanos en general y para los estudiosos de estas cuestiones: no sólo en el ámbito del Derecho o de la Gestión, sino de la Política o de la Función Pública. Y también ellos demandan una visión reciente y de conjunto de estas cuestiones.

El plan general de la publicación concibe su contenido en dos grandes bloques temáticos. El primero dedicado a determinar cómo se gestiona en el ámbito público y el segundo a analizar qué es lo que se gestiona. La obra concluye con dos capítulos referidos a cuestiones que inciden de modo relevante en la forma de concebir la gestión pública de nuestro país: las derivadas de la pertenencia a la UE y las que caracterizan a la misma en el ámbito local, fruto de la mayor proximidad al ciudadano.

Los temas se han seleccionado en unas ocasiones por su especial interés -como es el caso del diseño de las políticas públicas, el análisis de la eficiencia y la calidad en el seno de la Administración Pública y/o del personal a su servicio, o de las formas de elaborar los presupuestos-; en otras, por la preocupación social que los mismos suscitan -así sucede con la sanidad, las pensiones, la educación, la vivienda, el desempleo o la pobreza. Adicionalmente, por la incorporación de nuevas exigencias y requisitos a la actividad pública -la transparencia de la misma, su cercanía al ciudadano- y, finalmente, a un nivel más amplio, por las consecuencias que se derivan del innovador contexto supranacional en el que se adoptan muchas de las decisiones a la hora de diseñar las políticas públicas nacionales, especialmente teniendo en cuenta el reto inminente que supone para la Unión Europea la ejecución del Brexit agendado para el próximo 29 de marzo de 2019.

Sea como fuere, no se trata de un análisis exhaustivo de la acción pública, sino más bien de un estudio selectivo de sus principales actuaciones y, como reza el título de esta publicación, de dar a conocer la razón de ser de la Gestión Pública, sus logros y retos, a todo aquel que esté interesado por estas cuestiones.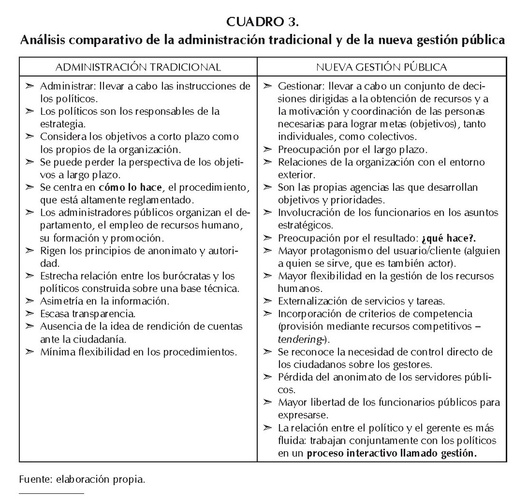 T2_c3_'Concepto y evolución de la gestión pública' (local). Autora: Miryam de la Concepción González
La publicación que se presenta este mes de septiembre 2018 constituye, además, un texto básico para la preparación de la asignatura 'Gestión Pública' que se estudia en el Grado de Ciencias Jurídicas del sector académico (UNED). Por eso, su planteamiento intenta ser didáctico, suscitando interrogantes al inicio de cada tema a los que se tratará de dar respuesta con su desarrollo. El contenido pretende ser de lectura amena con tratamiento riguroso y objetivo de los temas que en él se analizan. Partimos del concepto de que, como apunta la Dra. Miryam C. González Rabanal, Coordinadora del equipo de análisis "todos somos administrados, todos somos ciudadanos e interactuamos con la Administración", por lo que los temas y problemas en él contemplados, sin lugar a dudas, los hemos vivido -o lo haremos en breve- con cierta cercanía. Por ello, se ha pretendido darle un enfoque de proximidad que nos permita tomar conciencia de los dogmatismos que inundan algunos de los análisis excesivamente teóricos e idealizados del quehacer público en la realidad que todos vivimos.

Inteligentemente, la lectura del mismo hace viable transformar el conocimiento en el siglo veintiuno de la Gestión Pública en un canal ágil para arrojar algo de luz en el quehacer público, sus limitaciones y retos y -lo que es más importante- un medio para proporcionar al lector elementos ingeniosos para la reflexión y el debate desde ese mismo conocimiento lúcido.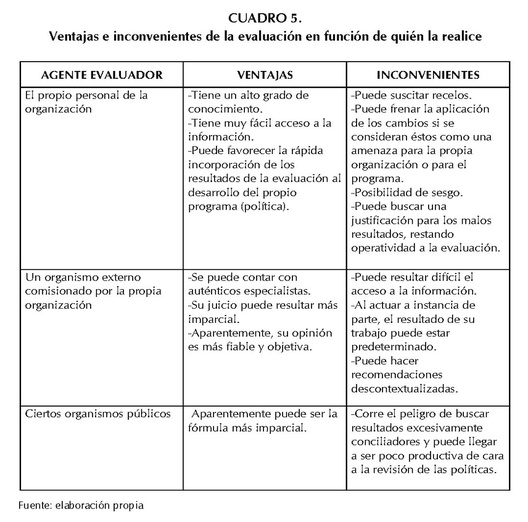 T9_c5: 'Las políticas públicas y la acción de gobierno' (local). Autora: Miryam de la Concepción González
Posted by Christopher O. De Andrés, on Tuesday, September 25th 2018 at 08:07
|
Comments (0)
The reputable Central American brand, CEMEX, as per being a global leader in building solutions, is uniquely positioned to help address the compromises / challenges of the cities of the future. CEMEX is constantly searching for innovations allowing the development of new products with the best competitive attributes that contribute to the most efficient and cost-effective construction of structures, from small self-construction projects to high-scale infrastructure.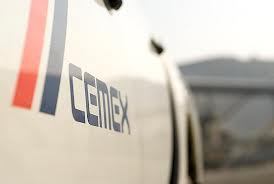 File source: CEMEX corporate website
CEMEX Mexico has introduced a unique new product to the market, EXTRA cement, the result of almost three years of research and development. This new product becomes part of the extensive portfolio of building solutions that the company offers to its customers around the world.

EXTRA cement is especially designed at the molecular level to reduce cracking due to plastic contraction by up to 80% during the curing periods for concrete and mortars. It also creates a more manageable mix with better integration and cohesion. The curing process begins during the first few hours after application, when the material begins to harden and become more resistant.

In structures built with conventional cement, cracks due to plastic contraction of the components in the mix begin to appear during this stage. EXTRA cement reduces this occurrence by up to 80%, allowing the contractor to give his clients better quality results and to generate savings by avoiding the need to repair and seal cracks.


File source: CEMEX corporate website
"The development of this new product presented an interesting strategic challenge; CEMEX could launch it as a new Premium product or substitute the product entirely, thereby achieving a product that is much better than what other companies can offer. We decided to pursue the latter and came up with the concept of EXTRA, which has now been incorporated into all our cement brands throughout Mexico," says
Ricardo Naya, Commercial and Marketing Vice-President for CEMEX Mexico
.
CEMEX
is a global building materials company that provides high-quality products and reliable services to customers and communities in more than 50 countries. CEMEX has a rich history of improving the well-being of those it serves through innovative building solutions, efficiency advancements, and efforts to promote a sustainable future.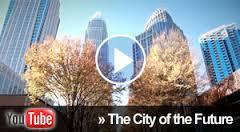 Caption from the video on 'The city of future' | CEMEX corporate website
Posted by Christopher O. De Andrés, on Tuesday, August 13th 2013 at 17:17
|
Comments (0)
---