Imprisoned Uzbek journalist, Salijon Abdurakhmanov, has been named a laureate of the prestigious Johann-Philipp-Palm-Award for Freedom of Speech and the Press.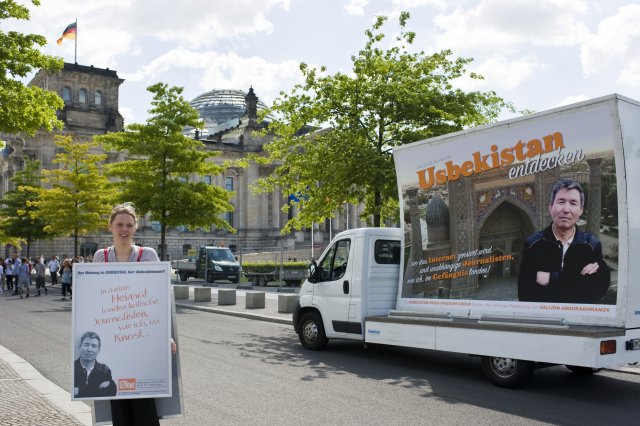 Recent protests in Berlin calling for the release of Uzbek journalist Salijon Abdurakhmanov | source: www.uznews.net
The German-based Palm-Foundation recently (26.08.2014) announced that Salijon Abdurakhmanov from Uzbekistan, and Nazikha Saeed from Bahrain, are this year's laureates of the freedom of speech and the press award.

"Salijon Abdurakhmanov is a brave critical journalist who was unjustly sentenced to ten years in prison," reads the Palm Foundation's announcement. "Among other things he has written about the consequences of the disappearance of the Aral Sea."

The Award Ceremony will take place on November 30 2014, in Schorndorf, Germany. The Palm Foundation expressed its hope that Abdurakhmanov, who has been in prison since 2008 in Uzbekistan, would be able to personally attend the award ceremony where he and his work will be honored and he will be awarded a ten thousand euro prize.

Laureate Abdurakhmanov.
Each year on the anniversary of Palma's execution the Foundation honors brave journalists, authors, and activists who are fighting -and suffering- for freedom of speech and the press across the world.
The Palma Foundation
believes Salijon Abdurakhmanov to be a such outstanding individual and professional.
Abdurakhmanov, a Karakalpakstan native, worked as a journalist for various print and broadcast outlets: uznews.net, IWPR, Ozodlik Radio, and Voice of America Radio. Abdurakhmanov was arrested in June 2008 and has served over five years of a 10-year prison sentence on drug possession charges. Amnesty International named him a prisoner of conscience in 2009.
The Organisation for Security and Co-operation in Europe (OSCE), the US State Department, and various human rights organizations have made repeated appeals to the Uzbek regime to free the journalist. Salijon Abdurakhmanov's family appealed to the president of Uzbekistan to release him due to his ill health. The journalist is suffering from acute ulceration of the stomach and intestinal tract and his condition has been worsening.
"I brought these cases to the attention of President Islam Karimov in May and October this year. I once again call on the authorities to consider Abdurakhmanov's case, in particular on humanitarian grounds,"
OSCE Representative on Freedom of the Media Dunja Mijatović
said.
"I will continue to closely follow his and the other two journalists' fate."
ECS Group staff wishes to join our colleagues from uznews.net and congratulate the Uzbek journalist as per being the recipient of this relevant paneuropean price – the Johann-Philipp-Palm-Award for Freedom of Speech and the Press.
Posted by Christopher Oscar de Andrés, on Wednesday, August 27th 2014 at 07:15
|
Comments (0)
---