Content strategy refers to the management of any tangible media that we design and own: written, visual, downloadable, etc. It is the agenda of our 'Digital Marketing Plan' which progressively demonstrates the essence of our corporation/institution and the expertise we bring to a concrete industry and/or sector.

Content creation and management is fundamental to foster the growth of our business and/or institution. However, it needs to have a well-planned strategy.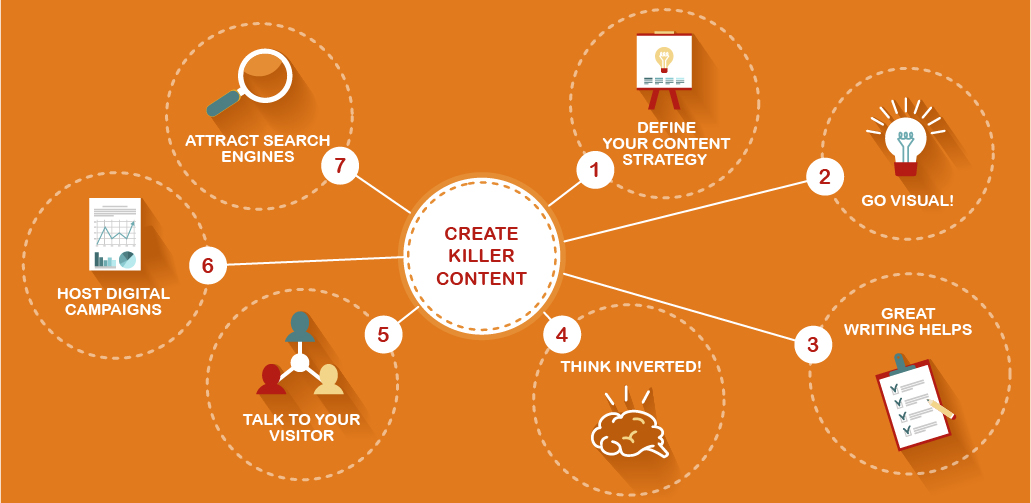 Source: The Information Company (TIC)
HOW TO CREATE A CONTENT MARKETING STRATEGY
1. Define our objective and goals.
What is our objective for developing a Content Marketing Plan? Why do we want to produce content and create a content marketing plan? Know our goals before we begin planning, and what is best for our strategy.
2. Conduct persona research.
To develop a successful plan, we need to clearly define our content's target audience - also known as our 'audience persona'.
This is especially important for a
startup marketing plan
. By knowing our target audience, we should be able to produce most relevant and valuable content to galvanize potential readers/customers.
If we are an experienced marketer, our target most likely should be modified, re-structured, updated:
- Is our objetive to target a new group of people or expand our current target market?
- Is our objetive to promote loyalty while keeping the same target audience?
Revisiting our audience parameters by conducting market research on a regular basis -every 6 months, yearly- is crucial to growing our audience.
3. Run a content audit.
Most professionals start out with blog posts, but if we want to venture out and try producing other content pieces, we must identify which pieces we wish to generate. For instance, if we have been drafting weekly blog posts for the past year, creating an e-book that distills all our blog posts into 'one ultimate guide' would be a fresh channel to offer information in a different format.
> Check some
types of Content Marketing in the template (stage #6)
.
If we have been in business for over 2 years, we should review our content marketing efforts and the results from it in the last year. Analyse what we can do differently in the upcoming year and set new goals to reach.
***
CM's tip: now is a great time to align our team's goals with the our organization's goals and mandate.
4. Choose a Content Management System.
Identify an effective system where we can manage our content. A few vital parts of content management include:
1. Content creation
2. Content publication and
3. Content analytics
A customer is able to plan, produce, publish, and measure results in the same platform - using the appropriate software.
2 content management systems we recommend are
HubSpot
and
WordPress
website hosted on WP Engine.
5. Brainstorm content ideas.
This stage #5 will support our Team to come up with innovative ideas for our next content project. Below we enumerate some tools to
get the wheels turning
:
- BlogAbout
- Blog Post Headline Analyzer
- BuzzSumo
- Feedly
- HubSpot's Blog Ideas Generator / HubSpot's Website Grader
Source: CMI. Quick guide will walk you through the basics of creating easy, yet actionable content marketing personas
6. Determine which types of content we need to create for our corporation/institution.
There are a variety of options to design and develop successful content.
Find below some of the most popular content formats and tools marketers are creating to optimize outcomes.
- Blog posts:
you are currently reading a Blog Post. Blog Posts live on a website and should be published regularly in order to attract new visitors. Posts should provide valuable content for our audience which makes them inclined to share Posts on social media and across other websites. Although we recommend that Blog Posts be between 1,000-2,000 words in length, we should evaluate to see if a targeted audience prefers longer or shorter reads.
- Case Studies:
also known as 'Testimonials', are our opportunity to show the story of a customer who succeeded in solving a problem by working close with our company. A Case Study is perhaps the most versatile type of content marketing due to the fact we can take many different forms - i.e. blog post, eBook, podcast, infographic, etc.
***
A reminder.- our goal in a Case Study is to show the audience who are considering our brand and/or product/s that the
proof is in the pudding
. Before choosing a customer for a Case Study, we should determine which form the Testimonial will take and the area of our business to which we are trying to drive value.
- eBooks:
lead-generation tools that potential customers can download after submitting a lead form with their contact information. They are usually longer, more in-depth, and published less frequently than Blog Posts, which are written to attract visitors to a website.
eBooks are the next step in the inbound marketing process. After reading a blog post, visitors might search for further information. This is where calls-to-action (CTAs) come into play, directing visitors to a landing page where they can submit their contact information and download an eBook to learn more valuable information for their specific needs. In turn, the corporation/institution producing the eBook has a new lead for the sales team to contact.
- Infographics:
can organize and visualize data in a more compelling way than words alone. These are creative and motivating content formats to use if we are trying to share a set of data in a way that is clear and easy to understand.
- Podcasts:
launching a Podcast will help audiences find our brand if they do not have time or interest in reading content every day. The number of Podcast's listeners is growing -in 2019, nearly 33% of the U.S. population and 30% of the EU population has listened to a podcast with a monthly frequency. If we have appealing professional profiles to interview or conversations to host, kindly consider Podcasting as a solid content format to experiment with.
- Social Media:
once we have been regularly publishing content on our corporate site for over 18 months, it might be time to start thinking about distributing our content across other platforms. This could mean re-structuring content into new formats and publishing them on our blog, creating original content specifically for external sites -i.e. Medium- or publishing website content on various social networks.
Posting on social media, however, is pivotal to amplifying our brand's reach and delivering our content to our customers where we know they invest their time.
> Social networks on which businesses often post include:
F
acebook
I
nstagram
L
inkedIn
P
interest
S
napchat
T
witter
Y
ouTube
When launching a business account on any of the social networks above, it is relevant to post the type of content our audience expect to see. On Instagram, for example, users visit the platform searching for photos, videos, and graphics that reflect current events, show off user-generated content, or even go behind the scenes of our organization.
Although Facebook is a 'double-edged weapon', our options to post 'popular content' open up slightly. It allows us to share Blog Posts and website content as well as it enables us to post native Facebook videos, product promotions, and original memes which might align with our customers. We can also interact with other businesses that have a similar audience as our own.
While the objective on social media sites -i.e. Instagram, Snapchat- is to connect more intimately with our audience, our main objetive on platforms like Facebook and Twitter is to expand that audience, drive traffic toward our website, and start conversations in a specific sector and/or industry. It is refreshing to implement some basic market research to discover which platforms our audience and/or potential buyers are on, and mold our content to their expectations.
- Templates:
are a handy content format to try since they generate leads while providing tremendous value to our audience. When we provide our audience with template tools to save time and help them succeed, they usually are more likely to keep engaging with our content in the future.
- Videos:
are a highly engaging content medium quite 'shareable' across social media platforms and websites alike. However, videos require a more costly investment of time and resources than written content, but as visual marketing increases in popularity -40% more likely to get shared on social media than other types of content- it is a channel worth experimenting with.
Several US and European think tanks platforms' analysis recently found that video is the most preferred form of content. Video also captures audience's attention in the most visual context to work with than any other content format.
7. Publish and manage our content.
Our marketing plan should go beyond the types of content we progressively create if we structure an accurate editorial calendar, we will be on the right track for publishing a well-balanced and diverse content library on our corporate website.

Many of the ideas we could think of will be evergreen because they continue being relevant months from now. On the other hand, we should not ignore 'timely topics' either: while they may not be the bulk of our editorial calendar, they can enhance our strategy to generate spikes of digital traffic within the corporate website, blog and/or social media.

We strongly suggest to design a 12-month a successful content marketing strategy - a tool which will take time, organization, and creativity. From building the foundation of our content marketing plan to adding tools to optimize the management of our content.

We wish this post will be useful to define and develop a strong online/digital Content Strategy!




Posted by Christopher Oscar de Andrés, on Wednesday, October 30th 2019 at 08:27
|
Comments (0)
---