Blockchain is a relatively new technology for managing electronic data that has the
potential to support transparency and accountability. A blockchain is a ledger of
transactions where an identical copy of the ledger is visible to all the members of a
computer network. It is best suited to transactions with a lightweight digital footprint where
transparency and immutability are an advantage. In the international public health care sector, blockchains may be particularly useful for identity verification; medical and pharmaceutical supply chain management; and managing dynamic patient consent and data sharing and access permissions.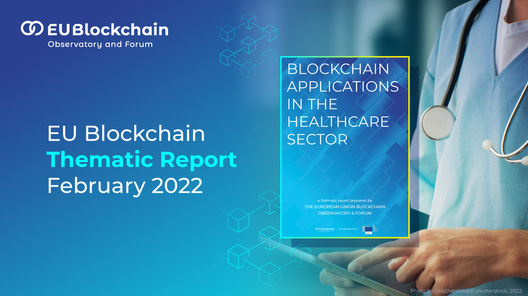 Source: EU Blockchain Observatory and Forum
What is blockchain and how can it provide opportunities for health care?

​A blockchain powered health information exchange could unlock the true value of interoperability. Blockchain-based systems have the potential to reduce or eliminate the friction and costs of current intermediaries.

The promise of blockchain has widespread implications for stakeholders in the health care ecosystem. Capitalizing on this technology has the potential to connect fragmented systems to generate insights and to better assess the value of care. In the long term, a nationwide blockchain network for electronic medical records may improve efficiencies and support better health outcomes for patients.

At its core, blockchain is a distributed system recording and storing transaction records. More specifically, blockchain is a shared, immutable record of peer-to-peer transactions built from linked transaction blocks and stored in a digital ledger. Blockchain relies on established cryptographic techniques to allow each participant in a network to interact (e.g. store, exchange, and view information), without preexisting trust between the parties. In a blockchain system, there is no central authority; instead, transaction records are stored and distributed across all network participants. Interactions with the blockchain become known to all participants and require verification by the network before information is added, enabling trustless collaboration between network participants while recording an immutable audit trail of all interactions.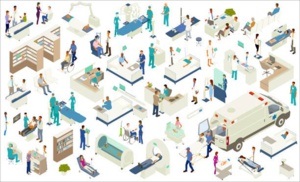 Source: Forbes
Blockchain as an enabler of nationwide interoperability.
The Office of the National Coordinator for Health Information Technology issued a shared nationwide interoperability roadmap, which defines critical policy and technical components needed for nationwide interoperability, including:
- Ubiquitous, secure network infrastructure,
- Verifiable identity and authentication of all participants,
- Consistent representation of authorization to access electronic health information, and several other requirements.
However, current technologies do not fully address these requirements, because they face limitations related to security, privacy, and full ecosystem interoperability.
Implementation challenges and considerations.
Blockchain technology presents numerous opportunities for health care; however, it is not fully mature today nor a panacea that can be immediately applied. Several technical, organizational, and behavioral economics challenges must be addressed before a health care blockchain can be adopted by organizations nationwide.

Shaping the blockchain future.
Blockchain technology creates unique opportunities to reduce complexity, enable trustless collaboration, and create secure and immutable information. HHS is right to track this rapidly evolving field to identify trends and sense areas where government support may be needed for the technology to realize its full potential in health care. To shape blockchain's future, HHS should consider mapping and convening the blockchain ecosystem, establishing a blockchain framework to coordinate early-adopters, and supporting a consortium for dialogue and discovery.​
Related articles:
EU Blockchain Observatory & Forum (Feb 2022).
Newsletter February 2022
.
Deloitte.
Transforming Federal Health IT Patient-centered, interoperable, and digitally connected big data
.
OECD. (Dec 2020).
Opportunities and Challenges of Blockchain Technologies in Health Care
. OECD Health Committee which supports countries in strengthening health data and their governance.
Posted by Christopher Oscar de Andrés, on Tuesday, March 8th 2022 at 08:35
|
Comments (0)
---