It's the worst fighting Europe has seen in 20 years. A serious worsening of the conflict in eastern Ukraine, which started last spring, has thrust the Eastern European nation back in the international spotlight.

How bad has the situation flared up? There has been a "grave escalation" of fighting, and the situation is "dire," in the words of a senior U.S. State Department official. The United Nations has warned of a growing number of civilian deaths as Ukrainian forces battle pro-Russian separatists for control in the Donetsk and Luhansk regions.
The current scenario.

More than 5,000 lives lost. A vast and unfolding humanitarian crisis. The downing of a civilian airliner that shocked the world. A failed ceasefire. And shades of an East-West proxy war.

It's hard to imagine -- but true -- that the raging conflict between Ukraine and Russia, or at least Ukraine and pro-Russian rebels, all started with a humble trade agreement.

As tensions run high more than a year later and Europe now tries to broker a new peace deal between Moscow and Kiev, it's time to look back on how we got here, and where things are headed.




Europe is now trying to broker a peace between Ukraine and Russia. German Chancellor Angela Merkel and French President Francois Hollande met privately with Putin on Friday. A Putin spokesman called the meeting "a positive step in settlement of the Ukrainian crisis." Merkel is pushing a peace plan said to be in line with what Russia and Ukraine had earlier agreed to last September in Minsk, Belarus.

But that agreement was shattered by continuing fighting. The exact details of the new peace proposal remained unclear in the wake of the meeting between the two European leaders and Putin. Under the prior agreement reached in Minsk, Ukrainian leaders and pro-Russian rebels had agreed to a complete ceasefire and a creation of a 30-kilometer buffer zone. They also agreed to remove heavy weaponry from the front lines of the conflict. Since then, however, fighting by both sides continued, and now pro-Russian rebels hold significantly more territory, analysts say.

One big question in the latest peace discussion is what would be the starting point for separatist strongholds: the land under rebel control in September and the territory held now, said analyst Michael Kofman of the Wilson Center. The rebels now control about 40% of the territory each of the Donetsk and Luhansk regions and about half of the population in both, Kofman said. The region's value lies in its coal. It's like the West Virginia of the Ukraine, and now Kiev must buy its winter coal back from the rebels.

In the meantime, two key events are expected to unfold in the coming week. Merkel will visit with Obama on Monday, when the two leaders are scheduled to talk about Ukraine and Russia, as well as other matters. At the same time, Obama must decide whether to use diplomacy or weapons to resolve the Ukraine crisis. Kiev is seeking U.S. weapons for the ground war with the separatist, and the White House has acknowledged it's considering sending "lethal" weapons, including anti-tank and anti-mortar systems, to the out-muscled Urkainian infantry.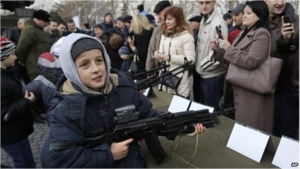 A child in Sevastopol plays with a weapon displayed as part of a promotional campaign by the Russian Army. Source: BBC News.
The Ukraine military is essentially looking for "everything" it can get its hand on, short of planes, for a ground war: anti-tank guided missiles, armored vehicles, reconnaissance drones, counter-battery radars, secure communications equipment, and heavy weapons, Kofman said.

The delivery of Western weapons could escalate the warfare, especially if Russia begins using its air force in support of the rebels, experts say. Kiev asserts the Russian army is fighting beside the rebels. Putin denies that claim and calls the Ukrainian army "a NATO legion." Merkel opposes weapons for Ukraine, and next week's meeting with Obama is expected to yield an announcement by both countries on how to reach a peace deal, analysts say. Obama will also be pressed to make a decision on whether to send U.S. arms to Kiev. "This is a moment in time that kind of decides in some respects Ukraine's fate," Kofman said.

Meanwhile, the carnage grows disturbingly, according to the United Nations. The death toll exceeded 5,358 people as of February 3, and 12,235 more people have been wounded since last April, the UN Commissioner for Human Rights Zeid Ra'ad Al Hussein said. The three weeks prior to February 1 has been particularly brutal: at least 224 civilians were killed and 545 more wounded, the U.N. said. "Any further escalation will prove catastrophic for the 5.2 million people living in the midst of conflict in eastern Ukraine," the U.N. said.




What will it take to end this?

Ukraine is a linchpin of Putin's plans for Russia, whether it's reassembling a historical empire or shoring up the Russian economy, Conley says. So whatever happens must support that. Kaplan says Putin can't pull back without gaining assurances that Ukraine will never become part of NATO. Ukraine, he said, needs assurances about its sovereignty and energy security.

Another analyst imagined three possible outcomes: A slow-simmering war that lasts for many years. A ceasefire that doesn't entirely satisfy Moscow and Kiev but essentially creates a frozen conflict for a long time. Or a political settlement where Russia withdraws forces from Ukraine and Kiev recognizes the separatists, Kofman said. "That is the best likely outcome but most difficult to achieve politically," Kofman said of the last scenario.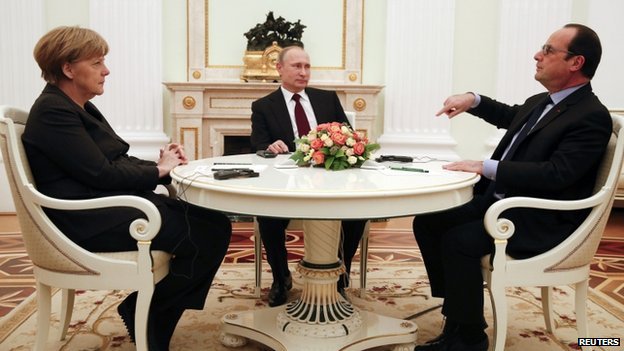 French President Francois Hollande (R) gestures as he speaks with Russian President Vladimir Putin (C) and German Chancellor Angela Merkel (L). Source: BBC News.
Posted by Christopher Oscar de Andrés, on Thursday, February 12th 2015 at 07:27
|
Comments (0)
---