European leaders express their condolences to families of Airbus A320 passengers.
Europe is shocked by the air accident in the Alps.
source: ECS Group
KEY POINTS OF THIS BREAKING NEWS:

-Search and recovery efforts on Wednesday 25 March in the French Alps, after a Germanwings plane crashed a day earlier with 150 people on board.

-Airbus 320 Flight 4U 9525 was travelling between Barcelona and Duesseldorf.

-The aircraft's black box voice recorder has been recovered and contains a 'usable audio file'.

-The casing of the second box - the flight data recorder - has been found, but not its contents.

-Memorial services being held as mourning for the victims begins.

-Among the dead are believed to be 72 German nationals and at least 51 Spaniards.

-Citizens of the UK, Australia, Japan, Israel, Turkey, Kazakhstan, Denmark, the Netherlands, the USA and Belgium were also on board.

-French President Francois Hollande, German Chancellor Angela Merkel and Spanish Prime Minister Mariano Rajoy have visited the crash site.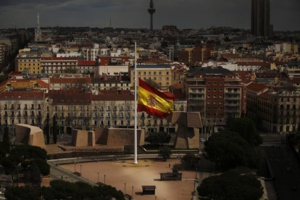 A Spanish flag flies at half staff, for the victims of the Germanwings passenger jet, in Madrid, Spain. Wed, March 25, 2015. | source: ECS Group
French investigators say usable data has been extracted from the cockpit voice recorder of Germanwings 4U 9525 but it has so far yielded no clues as to the cause of the plane's crash.

They said the plane hit the ground in the French Alps at great velocity, suggesting no explosion in flight. Flight 4U 9525 from Barcelona to Duesseldorf crashed after an eight-minute rapid descent on Tuesday. The French, German and Spanish leaders visited the crash site on Wednesday, March 25, 2015.

Posted by Christopher Oscar de Andrés, on Wednesday, March 25th 2015 at 21:05
|
Comments (0)
---