Kindly find the results of our most recent European elections. Final 2019 results will be added once available.
European Union's upcoming political scenario.
Spain - Provisional results
Breakdown by national parties and political groups: 2019-2024. And turnout by year (from 1987).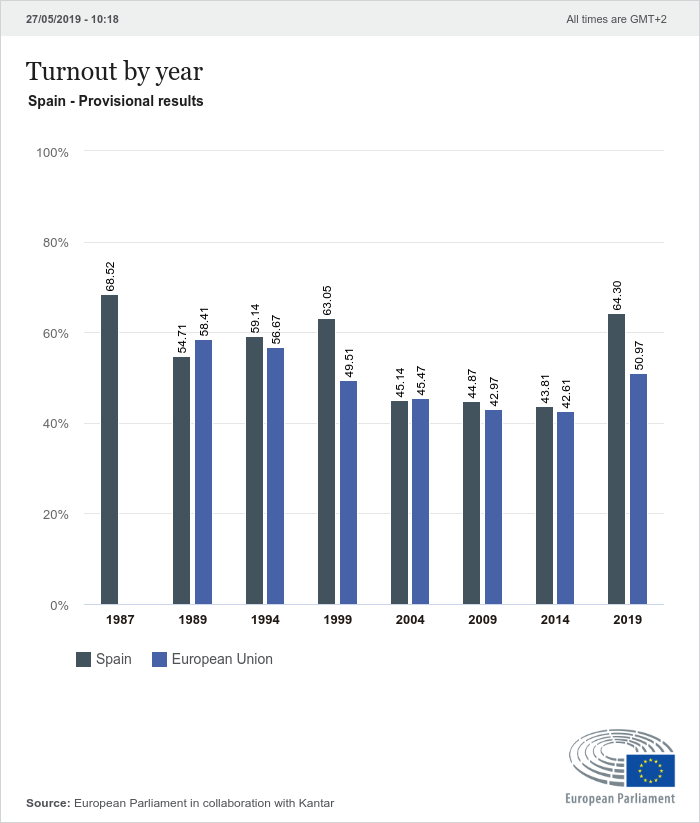 Source: European Parliament in collaboration with Kantar
Type of results:
Estimates:
Aggregation established by Kantar of available national estimates or polling data resulting from the elections and published in a given Member State after voting has finished, based on well-known and reliable national polling institutes.
Provisional results:
First results as presented by the Member State's official election authority on the basis of a percentage of votes counted.
Final results:
Results as published by the Member State's official election authority after all of the votes have been counted.
Official results:
Definitive results as proclaimed by the Member State's official election authority and validated by the national legislative authority.
Constitutive session:
Results as officially announced by the newly-elected European Parliament after verification of its Members' eligibility criteria.
Outgoing Parliament:
European Parliament configured as in the last parliamentary session of the ongoing legislature.
USEFUL LINK (EU and national results)
European Parliament
Posted by Christopher Oscar de Andrés, on Wednesday, May 29th 2019 at 07:07
|
Comments (0)
---