Happy New Year 2017 - the year of the Red Fire Chicken.
Feliz Año Nuevo chino 2017 - el año del Gallo Rojo de Fuego.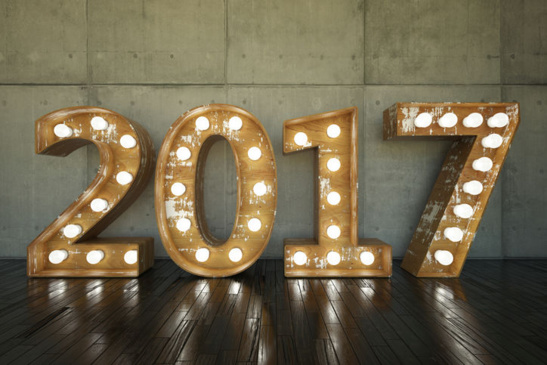 source: heraldextra
The
New Year of the fire rooster
has been marked across the world on
Saturday January 28th
. Festive trappings are ubiquitous in China in the build-up to the lunar new year. Several countries in Asia celebrate the lunar new year in their own way. Dragon and lion dances in Chinatowns over the world have supported to make China's the most famous. These days growing numbers of people who are not of Chinese descent are joining in.
Nevertheless, Chinese New Year is becoming a global holiday. The international festivity has been recently celebrated in cities such as
Hanoi; Hong Kong; London, Madrid; Manila; Melbourne; New York; Taipei; etc.
In Tokyo, window cleaners dressed up as the animals of the Chinese zodiac.
North America, Canada and New Zealand have issued commemorative stamps for the
year of the chicken
(or cock or rooster, as the animal of 2017 is sometimes called, inaccurately: the Chinese word is gender neutral). Last year New York city made the lunar new year a school holiday for the first time in new yorkers' cultural agenda.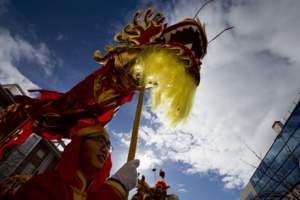 source: AP Photo/Paul White | People from the Chinese community celebrate the Lunar New Year, the year of the Rooster, in Madrid, Spain on 28.01.2017.
Celebrations vary depending on where they are held, but this year the lucky colors are gold, brown and yellow which are associated with the New Year's animal – the rooster. The
spread of the spring festival
, as China calls it, is partly due to recent emigration from China: 9.5m Chinese people have moved abroad since the end of the 70s, many of them far richer than previous waves of migrants. It also reflects the wealth and globe-trotting ambitions of China's current middle class: festivities in other countries are partly targeting the 6m Chinese who are expected to spend their week-long holiday abroad this year. International brands are trying to lure these big spenders with chicken-themed items.
Conscious of China's growing economic and political clout, foreign leaders have taken to noting the occasion. It is rumored that this year's
World Economic Forum
in Davos was held a week earlier than usual to avoid clashing with Chinese New Year. China hopes the festival will boost its cultural "soft power" abroad. Some Chinese Government's Representatives share their discouragement as they experience the growing enthusiasm among Chinese for 'Western celebrations' such as Christmas—in December cities across China are bedecked with
Santas
and snowflake decorations. Chinese New Year is a welcome chance to 'reverse' the cultural flow. This New Year of the Rooster
lasts until February 15th, 2018
.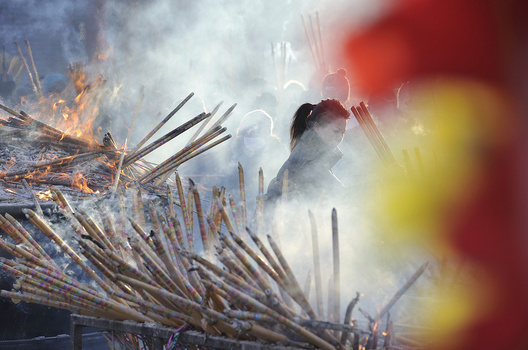 source: Tao Zhang/NurPhoto via Getty Images | Chinese worshippers light incense as they pray at the Dacheng Temple on Jan 28, 2017 in Qiqihar, China.
Posted by Christopher O. DE ANDRES, on Saturday, January 28th 2017 at 19:25
|
Comments (0)
Definitivamente, la extrema derecha europea ha cambiado su rostro. Ha dejado atrás su imagen adusta y, adaptada a los tiempos que Guy Debord denominaría, en 1967, como La sociedad del espectáculo, ha incorporado una impronta de simpatía, proximidad y (peligrosa) normalidad.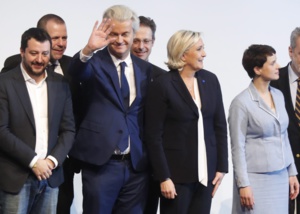 fuente: agencia EFE global.
Bogotá, Colombia.- Basta con observar figuras políticas como Matteo Salvini (Liga Norte italiana), Marine Le Pen (Frente Nacional), Geert Wilders (VVD holandés) o la líder de Alternativa para Alemania, Frauke Petry.

La extrema derecha europea incorpora rostros jóvenes, mujeres, y no le importa la condición sexual -recuérdese que Haider en Austria o Fortuyn en Holanda eran homosexuales- invitando a pensar que elementos como el patriarcado o la orientación sexual son issues del pasado. Empero, la nueva extrema derecha europea mantiene tres elementos indiscutibles, presentes en todos sus relatos: euroescepticismo y profundo neoliberalismo, nacionalismo a ultranza y, por extensión, xenofobia hacia el diferente, especialmente, si guarda relación con el islam.

La comprensión de cómo hemos llegado aquí pasa, necesariamente, por entender cómo el contexto de grave crisis económica por el que viene transitando Europa desde 2008, aún irresoluta, ha desembocado en una creciente pérdida en la confianza y la legitimidad sobre los partidos tradicionales, y ha abierto una ventana de oportunidad para estos nuevos partidos, latentes cuando no completamente relegados, desde la Segunda Guerra Mundial.

Su auge pasa por cómo ha sabido modular su marcado mensaje reaccionario desde lo que se conoce como la "tetralogía de la xenofobia", es decir, la globalización genera inmigración, la cual deriva en desempleo, lo que supone delincuencia y, por ende, inseguridad. Resultado: la inmigración, producto de la globalización, es el mal de todos los males.
fuente: dailymail.co.uk | Marchas y protestas en Colonia, Alemania (finales de 2016) contra los ataques sexuales cometidos por grupos de inmigrantes con un perfil conflictivo.
Esto se complica, si cabe más, por las propias contradicciones izquierda/derecha en las que desemboca el presente escenario posfordista producto a su vez del modelo capitalista actual. Así, la inseguridad, la falta de certeza económica, la desafección política y el distanciamiento con quienes ostentan el poder político, la alienación y el desencanto con un Estado cuyos gobernantes son incapaces de resolver el contexto actual de crisis, añadido a la prioridad de un escenario donde se han salvaguardado los intereses del mercado a la vez que obviado las necesidades de la población civil, terminan por dirigirnos hacia un perfecto caldo de cultivo para la emergencia de partidos y coaliciones de marcada impronta neofascista.

Y en esas estamos, amenazados por un rostro amable de la extrema derecha, seguida de millones de correligionarios, que son dirigidos por liderazgos, tan carismáticos como demagógicos, y que han sabido transferir al debate público nuevos conceptos de "nación" o "ciudadanía", con lo que se segmentar ideológicamente no ya sólo a los partidos más conservadores, sino a la ciudadanía en general. Todo lo anterior tenderá a favorecer la (re)incorporación de un cleavage en el que el "otro", el inmigrante, supone una amenaza en términos económicos, sociales y culturales frente al que urge actuar. Más si el terrorismo internacional opera como factor coadyuvante.

Sin embargo, lo cierto es que, todo lo anterior no hace sino crear nuevas fracturas que amenazan con implosionar la naturaleza del proceso integrador, y el valor agregado de cualquier atisbo de cosmopolitismo global. Ello, gracias también a una corresponsabilidad directa de una parte de la ciudadanía que atraviesa una profunda crisis de valores y que se siente cómoda con las posibilidades que ofrece la violenta pero amable extrema derecha. Una ciudadanía que expresa el fracaso de la educación democrática en tolerancia y respeto mutuo, y que torna en egoísmo el valor de la inclusión y la solidaridad. Una ciudadanía que evoca los fantasmas del pasado más oscuro de Europa y que nos muestra cómo fracturas sociales -raciales- trasnacionales originadas por una causa global son proyectadas, sin solución, a una problemática local. Una problemática local que, más que nunca, requiere de Europa y de sus Estados para actuar en aras de mayor inversión pública, redistribución de ingresos, igualdad social, valores cívicos, inclusión ciudadana, educación y bienestar. También las instituciones educativas, la universidad y los medios de comunicación son corresponsables en dicha cuestión. De lo contrario, parecemos abocados a repetir el error de los años treinta. No se puede banalizar una posibilidad de retorno del fascismo que está ahí, al acecho, y más cerca que nunca.
Autor:
Dr. Jerónimo RIOS SIERRA
Doctor en Ciencias Políticas de la UCM y
Profesor de Relaciones Internacionales en la Universidad EAN.
Link
twitter
.
Link publicación de este artículo en
soporte huffingtonpost.es
.
Posted by Jerónimo RIOS SIERRA, on Saturday, January 28th 2017 at 09:15
|
Comments (0)
---